Testimonials
We're proud to have received many kind words from our guests.
Dawit with Hugh Jackman at the end of Ethiopian tour in 2009. What a humble man!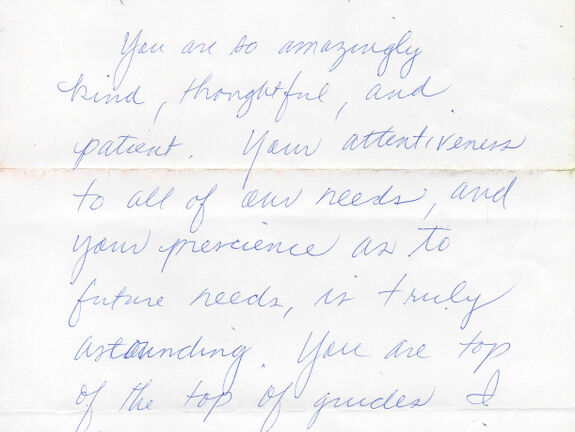 Handwritten testimonial from Laurie Williams, veteran traveller of over 140 countries.
Susie Sainsbury
Dear Dawit,
I hope these photographs are a reminder of our group that you took around your beautiful country a few weeks ago. We want to thank you for being such an excellent guide and particularly showing us your expertise in the history of your wonderful country. We hope that you will be getting many more British parties and we would certainly look forward to another time with your guiding.
Yours Sincerely
Susie Sainsbury
M. Crawford Young
Dear Dawit,
Let me thank you for your masterful performance as tour guide; we learned far more about Ethiopia than we had expected.
Cordially,
M. Crawford Young
Professor Emeritus
University of Wisconsin-Madison
Mark & Grace
We met Mr. Dawit Teferi on our 10 day trip to Ethiopia, where we were fortunate to have him as our guide. Since he graduated from Addis Ababa University as a history major his knowledge about history of Ethiopia was astounding. He also supplemented facts with excellent connections pertaining both to the past and present. We learnt a lot from him and we think we understand Ethiopia much better than before.
Mark & Grace from the US
Sue & Larry
Dear Dawit,
It is hard to believe that our wonderful time with you is over! You have made the trip MEANINGFUL and Memorable for us with your MARVELOUS knowledge and expertise, and we are ETERNALLY grateful. I cannot imagine having done this trip with anyone OTHER THANK YOU.
All the best, Sue & Larry
Global Living Magazine
"Vibrant Island Monasteries on Lake Tana - It's the stillness of Lake Tana, the source of the Blue Nile, which leaves me spellbound. I board a private boat from Gondar, sailing the vast exotic waters teeming with birdlife, to visit small, wild islands housing incredibly old churches – 37 in total. Each is embellished in vivid, natural-color frescoes and holds priceless manuscripts from the dawn of Christianity. My well-versed guide, Dawit Teferi, demystifies each, depicting the evolution of religious art through the eras. It's a topic close to his heart, as a researcher on church art who is shortly to speak at a world-class event in the apt European city of Vienna.
-Travel writer and former BBC journalist Anisha Shah, in her article "Expressions of Ethiopia" published after her tour in Ethiopia in March 2013.
The full article can be read in Global Living Magazine 2013 edition pp.20-26.
Tannis
Dear Dawit,
We very much enjoyed our trip, thank you for planning it! The guides were so knowledgeable and very friendly. It was a wonderful experience to see the culture and history of Ethiopia in Gondar and Lalibela and see the endemic wildlife of the Simien Mountains up close! My favorite experience was sitting among the Gelada monkeys and watching the baby monkeys play.
Thank you,
Tannis
Fred & Ellen
Before we stepped onto our plane to Ethiopia we knew we were in superb hands with Nightjar. They facilitated every step of our planning with care. Inquiries were answered promptly and carefully, and they offered many helpful suggestions before our arrival to assure that we were prepared for the extraordinary trip they had organized. The schedule proposed for our visit was thoughtfully constructed and was responsive to every request we made regarding our particular interests in culture, architecture, history, politics, and the local cuisine. Their deep and broad knowledge of Ethiopia (especially regarding religious structures, practices, and artwork ), as well as their extensive experience in hosting foreigners, allowed them to suggest an itinerary that covered not just the obvious basics but intriguing off-the-beaten-track visits.
Nightjar staff took into account every preference and priority we expressed. They were quickly responsive to events and opportunities that developed while we were on the road with them enabling us to linger in villages, wander at markets, accept invitations into homes, join into a local wedding celebration and sit having coffee in a hut. All of what was promised to us was not only delivered but often exceeded. Nightjar's guides and drivers are knowledgeable, flexible, balanced, and, fun to spend time with. Very importantly, they are aware of and respectful toward the varying cultural norms and practices not just between Ethiopians and those who visit the country, but within and among the tribes of Ethiopia itself. Of special interest to us were the agricultural environment, and bird and wild life. As Nightjar's name suggests these areas are also major parts of their repertory, which allowed us to have wonderful outdoors experiences. To take a trip through Ethiopia with Nightjar is an opportunity to see a world and culture like no other while learning, having a good time and making new friends. A visitor could not make a better choice than to visit Ethiopia with the guidance of Nightjar!
Fred & Ellen from Chicago
Peggy Slater
I have just returned from a trip to Ethiopia sponsored by Smile Train, a charity that sponsors surgery around the world for children with cleft lips and palates. It was a fabulous trip.
One reason that the trip was so special one was Dawit Teferi, our guide. Dawit through his company Nightjar Tours guided us through the Smile Train program in Addis Ababa and Gondar as well as a five day extension in the Omo Valley and arranged for our three day extension to Lalibela. I have travelled with many good companies and enjoyed the expertise of many good and some excellent guides, but never before have I been moved to write to sing the praises of any of them.
Dawit is devoted to Ethiopia and knows his country in and out. He shares insights about the culture, history, politics past and current, natural surroundings and economic development of Ethiopia in a way that brings clarity to complex situations and is directly responsive to the interests of his travellers. The list above reflects my interests – Dawit is also expert on antiquities, flora and fauna with a specialty in birds, and everything else that any member of our group inquired about.
The logistics of the trip were flawless, in spite of many challenges including being in a country where the electricity can suddenly be absent and having Carol with us, a traveller who, although experienced, was way too disoriented at this point to have been properly allowed along. Dawit was able to take care of Carol, seeing that she was up and ready to go in the morning, retrieving her lost medications, managing her many questions, assuring that she did not wander off, without skipping a beat for the rest of us or allowing her needs to distract from our trip. It was truly amazing.
Dawit knows the Omo Valley like the back of his hand – we saw more than I could ever have imagined in that five days including a bull jumping ceremony. Even the long days of driving were a pleasure as Dawit provided new 4x4vLand Rovers with excellent drivers and window seats for all and never ran out of interesting information to share about the country that he obviously loves so much. When I compared our itinerary to longer ones offered by other companies I saw little that we missed and it appeared that much that we enjoyed was not included.
Dawit's knowledge is grounded in study as well as experience and has been recognized and accepted by academia. I first learned of this by reading his article "A Short History of Ethiopian Church Art" in the 7th edition of the Bradt Guide to Ethiopia, pp. 242-243. His masters degree on inter-community relationships in areas of the Omo Valley has been accepted for publication by the South Omo Research Center. Turns out he has written papers on various topics:
Church Paintings as a Source of the History of Slavery, presented at the 18th International Conference of Ethiopian Studies in Dire Dawa, Nov. 2012.
Photograph Kind Images in Ethiopian Churches, presented in Sept. 2013 in Vienna at the Ninth International Conference on the History of Ethiopian Art and Architecture.
Birdwatching as an Additional Product at the Established Tourist Destinations of Ethiopia: the Case of Aksum and Lalibela, presented at the 19th International Conference of Ethiopian Studies hosted by the University of Warsaw in August 2015.
Dawit can hold his own with anyone, but I don't want to make him out as just a scholarly type. He is always a fascinating conversationalist and a lot of fun, turning what could be irritating delays in schedule into opportunities to see one more facet of Ethiopian life.
I don't want to go on too long, but I do want to do my best to be sure that as many people as possible can benefit from an introduction to Ethiopia by Dawit Teferi. This was an experienced group of travellers and we all went home talking about this as truly the trip of a lifetime.
Sincerely,
Peggy Slater
Jane Bryant Quinn
Dear Dawit,
Thank you so much for the book recommendations. They all look great.
And… here is a recommendation for your website.
Dawit Teferi is a wonderful guide. I'd recommend him to anyone with a serious interest in the art, history and culture of Ethiopia. We spent two fascinating weeks in his company. He's as helpful as he is knowledgeable. You don't want to miss his explanations of the splendid paintings in the ancient churches! A+++
All the very best to you and your daughters
Jane Bryant Quinn, New York
Carll Tuker
Our guide was Dawit Teferi. Jane and I have enjoyed the tutelage of many guides, from execrable to excellent. Dawit is in a class by himself.
Guiding smart, disparate, affluent Americans on a ten-day tour is harder than writing missives. We came to see the sites, sure, but which sites? For how long? At what depth? A guide is a teacher without pedagogical authority, a servant who must lead while seeming to follow. Logistics must be handled exactly and as nearly as feasible invisibly. One must avoid showing favoritism: no one takes kindly to being less loved. One must be prepared to smile through whining, abuse, and parsimony. The customer is always right even when he deserves to be thrashed.
Dawit is a born guide. Guiding is his vocation, not just his job.
Carll Tuker