Practical travel information
Here is some advice to assist you in thinking about when to travel to Ethiopia and how to fully enjoy your experience.
Practical Information
We are happy to answer all your questions, so please view this as the start of our conversation. Our goal is to help you feel comfortable and excited about your trip.
When to Travel
It is possible to travel to large parts of Ethiopia at any time. September and October are considered by some visitors to be a very appealing time to see Ethiopia, when the vegetation turns green and there is a freshness in the air after the end of the main rainy season. October to January is the busiest tourist season, January garnering the most visitors due to the January 19 Timket festival (commemorating the Baptism of Christ) and the January 7 celebration of the Genna feast (Christmas) in Lalibela. On the other hand, February to June is still a good season for visiting as the weather is mild and it is the quietest part of the year.

Development of an itinerary should however bear in mind that Ethiopia has two main seasons: the rainy season (July and August) and the dry season (the rest of the year). These seasons pose differing conditions which suggest that it is wise to avoid travelling in places such as the Simen and Bale Mountains during the rainy season; while the Denakil Depression would be too hot for travel in July and August.

It is interesting to note that weather conditions outside Ethiopia itself also impact travel to the country, as most tourists come from the northern hemisphere and especially enjoy visiting our country during their winter months.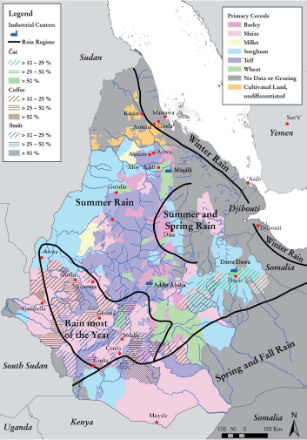 Climate map of Ethiopia Source: Encyclopedia Eethiopica, Vol. V, p. 596.
Safety
Ethiopia is regarded as one of the safest countries in the world. Violent crimes are very rare. In spite of that, due to instability in neighboring countries such as Somalia and Sudan, some potential travelers feel uneasy about traveling to Ethiopia. Most of the places where travelers tend to spend time are, however, far away from these bordering countries.
Security at airports can be quite thorough. For example, you will be expected to remove shoes, belts, etc. twice at every airport. Some travelers find this reassuring, while others consider it a nuisance. If you are of the latter viewpoint, try not to take the inspection personally.
Most hotels do not have safe deposit boxes, so you may wish to keep valuables in your handbag.
Visas
All travelers to Ethiopia (except from neighboring countries) are required to hold a tourist visa. There are three ways in which one can get a tourist visa to enter Ethiopia:
A visa can be obtained from an Ethiopian embassy or consulate.
A visa can be obtained at the airport upon arrival in Addis Ababa. The disadvantage of visa-on-arrival is that the airport can be busy and there may be long queues.
e-Visa by applying at https://www.evisa.gov.et
Health Issues
Malaria
This is a concern for most travelers to Africa. In Ethiopia malaria occurs only in places below 2,000 meters (6,562 feet) whereas most of the places in central and northern Ethiopia where travelers tend to travel are above 2,000 meters (6,562 feet). These higher altitude locations include Addis Ababa (2,300 m./7,546 feet) Lalibela (2,500 m./8,202 feet), Axum (2,200 m./7,218 feet), Gondar (2,300 m./7,546 feet), and the Simen Mountains (3,000 m./9,843 feet and above). The only major destinations in northern Ethiopia below 2,000 meters (6,562 feet) are Bahir Dar and Lake Tana (1,800 m./5,905 feet). Even here, however, the malaria season is only experienced after the summer rains around September. In eastern Ethiopia the Bale Mountains are free from malaria, whereas Harar (1,800 m./5,905 feet) and Dire Dawa (1,200 m./3,937 feet) are situated in the malaria range. In southern Ethiopia the Rift Valley region, such as Lake Ziway, Langano, Hawassa, Arba Minch and the Omo Valley are located in the malaria zone. Even here though it is good to note that malaria is seasonal since mosquitos need stagnant water and much of the Omo Valley is dry most part of the year.
Altitude
Due to the mountainous nature of the country, the most common problem that affects travelers is altitude. Particularly the Simen Mountains which is 3,000 m. (9,843 feet) and above is where travelers may be affected by altitude. For the sake of acclimatization, as much as possible, it is consequently advisable to start your tour in lower places before you venture to the Simen Mountains.
Hydration
During your stay in Ethiopia, make sure to drink bottled water continuously.
The Sun
Since Ethiopia is in the tropics, the sun is strong. It is advisable to have sun screen and a hat whenever there are outdoor activities.
Food
Ethiopian Food
For people who want to try local cuisine, the staple food in large parts of Ethiopia is known as enjera. This large pancake-like starch is usually made out of teff (a tiny seed mainly consumed in Ethiopia and Eritrea), although it can also be created from other grains such as barley, sorghum and rice. Enjera is so popular that it is even considered the national dish and is a part of almost every meal in Ethiopia. You will find enjera laid on a plate beneath the vegetables and meats that comprise the rest of your lunch or dinner, with additional pieces served in much the same way as how bread is presented in Western restaurants. Enjera is then eaten by wrapping small pieces around your servings of meat and vegetables (this is somewhat similar to how a tortilla or crepe is utilized to enfold other components of a meal). It takes a little practice but you will quickly get the knack of eating your meal with enjera. Another common component of the Ethiopian diet, that may be unusual for visitors, is enset. This is also a bread-like product and is especially common in the southwest. Enset is a plant that looks much like a banana tree but, ironically, produces no fruit (which gave rise to its English name, "false banana"). One eats the stem and root of the enset plant which are pounded into a tasty dish. And, if you are a meat eater, prepare yourself for delicious goat and mutton in Ethiopia accompanied by vegetables.
Western foods
Most hotels and restaurants which tourists frequent try their best to serve some Western food. Pizza, for example, can be obtained almost everywhere.
Vegetables
As a part of their religious practices, several times a year Ethiopians "fast" (which means to abstain from eating meat and poultry). As a consequence, vegetarian dishes are commonly available (simply say you are "fasting" and you can obtain delicious vegetable dishes). And even during non-fasting periods vegetable soups are often on the menu. In addition, most hotels and restaurants serve salads; these are safe to consume unless you have an extremely sensitive stomach, in which case you might want to avoid raw vegetables.
Alcohol
Many types of bottled beer are produced in Ethiopia and can be obtained for lunch and/or for dinner. In addition, there are several very fine locally produced wines.
Dress
You will find that Ethiopians in urban areas are wearing clothing quite similar to what you would see on the streets of your home town, although in tribal areas you are likely to see attire that is much less familiar. But in either situation, dressing in typical Western clothing will be appropriate. It is important to remember however that in Ethiopia we typically remove shoes when entering a home, a practice that is strictly followed in churches and huts in rural areas.
It is, of course, wise to adjust your attire to the weather in the locations you visit so you want to consider the month and region included in your itinerary. During most of the year, places in the Bale Mountains, central, and northern Ethiopia have moderate temperatures (between 20 and 28 degrees Celsius). By contrast, in September and October the Simen and Bale Mountains can be very cold (with temperatures close to, or below, zero degrees Celsius). Southern and northeastern Ethiopia are warmer. For example, in the lower Omo Valley daytime temperatures can rise to 35 degrees, while in the Denakil Depression in northeast Ethiopia summer temperatures can rise to 45 degree Celsius or higher. Once your itinerary is set you can consult further with us about the weather you are likely to encounter on your trip. In general, bringing layers is advisable so that wherever you visit you are able to be comfortable as temperatures rise and fall during the day and evening.
It is important to take care to have modest clothing when visiting churches in Ethiopia. Most tours in Ethiopia include visiting the famous rock-hewn churches of Lalibela, as well as other of our famous churches and you won't want to miss these opportunities. Please consider therefore that a conservative wardrobe is recommended if you visit a church during services, which means long pants and long sleeves for both males and females as well as a head covering for females (consider bringing a scarf from home or purchasing a lovely one in the markets of Ethiopia when you visit). In visiting churches outside service times, men can wear shorts but women are expected to have long pants and long sleeves (a head covering is optional). Your long pants and long sleeved tops will be additionally useful in guarding against sunburn.
Laundry services are available at most hotels and in places where you stay two or more nights can be done at reasonable prices. Many tourists, however, find it convenient to hand wash some clothes. With this in mind, you may wish to bring items that drip dry quickly and can be worn repeatedly. Most travelers enjoy having luggage that is as light as possible, especially if this leave some room to accumulate souvenirs along the way.
Etiquette
Drinking water or chewing gum inside churches is prohibited.
Money
Cash
You will probably want to bring some cash from home to utilize during your trip, both to exchange for local currency and to use in paying for purchases. You can, for example, use U.S. dollars, Euros and UK pounds for shopping and tipping in most places. It is, however, advisable to carry currency that was printed as recently as possible; older and worn notes may not be accepted.
The Ethiopian currency is the birr (which means "silver"). The exchange rate is regulated by the National Bank of Ethiopia and all banks have the same rate. In 2019 one U.S. dollar equaled 28 birr; unfortunately though it is in constant decline in relation to international currencies. Most hotels change U.S. dollars, Euros and UK pounds but the rates are lower than the bank rates.
Credit card
Cards are accepted in most hotels in Addis Ababa and some out of Addis Ababa. Very few shops accept credit cards.
ATM
ATMs are available in some hotels and town centers.
Planning
As you think about the cash that you might wish to bring on your trip or withdraw from an ATM, you might want to think about prices in Ethiopia. For example, with the exception of the big international hotels and upmarket restaurants in Addis Ababa, an average dinner costs $10-20, a beer $1-2, and, a bottle of wine $10-$20. When your itinerary is finalized we can assist you in thinking through further details about the costs you are likely to encounter.
Toilets
Ethiopian hotels and most restaurants have Western toilets; however public washrooms other than the bathrooms in your hotel may not supply tissue paper. You may, therefore, want to plan to carry a roll of toilet paper with you during your travels.
Photography
Anyone who enjoys photography will find Ethiopia abundant with opportunities. From the exotic to the paradisaical, you will be beckoned to capture images of nature, architecture and everyday life. And, of course, the chance to see indigenous wildlife unique to Ethiopia is a draw for many visiting photographers. In most cases one can freely take general photographs, such as street scenes, markets and religious gatherings. However, if you want to photograph a particular individual (such as a person in their market stall or walking along the road), it is best to ask permission. If you show your camera and say "photo" your intention will easily be understood.
Anyone who does not want to be photographed will wave you away or, in some cases, a woman may cover her face. In the Omo Valley people demand payment for every photograph taken, although the amount is quite minimal and must be respected; in other parts of Ethiopia very few ask payment for photography.